I was in search of a simple healthy energy treat and came across an energy ball recipe. I decided to modify the recipe pretty drastically because we try to eat paleo as often as possible. I had to tweak the recipe once because the first attempt the recipe was very dry and hard to eat.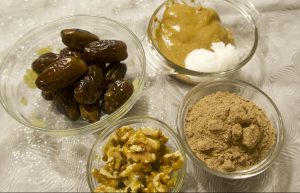 6 dates (pitted)
1/4 cup walnuts
4 TBS almond butter
2 TBS coconut oil
1 scoop Chocolate Shakeology (Cafe Latte also makes a good energy ball)
(Recipe makes 12 energy balls)
Place all the ingredients into a food processor. Process on high until ingredients are well blended, between 3 to 5 minutes depending on type of food processor. I make a 1 tablespoon ball of the ingredients and then roll in unsweetened coconut flakes.
Put the energy balls into an air tight container and place in the refrigerator.