This recipe has been our go to as a snack recently. It's simple, easy and tastes SO good!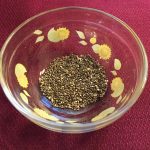 There are of course many health benefits eating chia as well. They have fiber, protein, calcium, manganese, magnesium, phosphorus, zinc, vitamin B3 (Niacin), 5 different types of Omega 3's, and more. Chia is a carb friendly food because it has 1 gram of carbs per gram and is also gluten free, which means if you are eating paleo, this is a go to.
We make our chia pudding on Sunday evening and it makes enough to last us as a snack for the week.
Ingredients:
1 1/2 Cups almond milk
4 Tbs Chia seeds
1/2 tsp Cardamon
1 tsp Vanilla extract
1/2 tsp unsweetened coconut flakes
1/2 Cup water
I use a mason jar to mix all ingredients together. Once all ingredients are in the jar, place the lid on the jar and mix well. Place the jar in the fridge overnight so that the chia seeds soak in some of the almond milk and water.